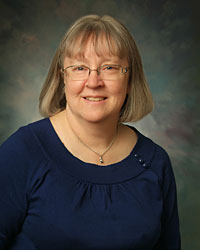 Foundation Director/Concierge Services Coordinator
Kathy Gensel recently retired from the banking industry after 30 years with Wells Fargo, and it's predecessor, National Bank of Alaska. She most recently served as the Soldotna Bank Store Manager. Kathy has a long history of community, civic and philanthropic involvement and is the recipient of several awards. She was named "Citizen of the Year" by the Soldotna Lion's Club, "Outstanding Business Leader" by Phi Delta Kappa and received the "First Lady's Volunteer Award" from Ermalee Hickel. Kathy currently serves on the CPH-Heritage Place Patient/Resident Advisory Council and has done so for over twenty years.
Ms. Gensel has been a resident of Soldotna since 1980 when she married lifelong Alaskan, Daniel. Kathy and Dan have one daughter who just moved back to Soldotna with her husband. Kathy is the Housing Chair for the Peninsula Oilers baseball team and can be counted on housing players for the summer season. Together, Kathy and Dan enjoy many sports including golf, basketball, and baseball.